Phone Number
(+603) 6151 9178
Grand Mahkota Ballroom
Hotel Istana, Kuala Lumpur, Malaysia
MIPOC 2019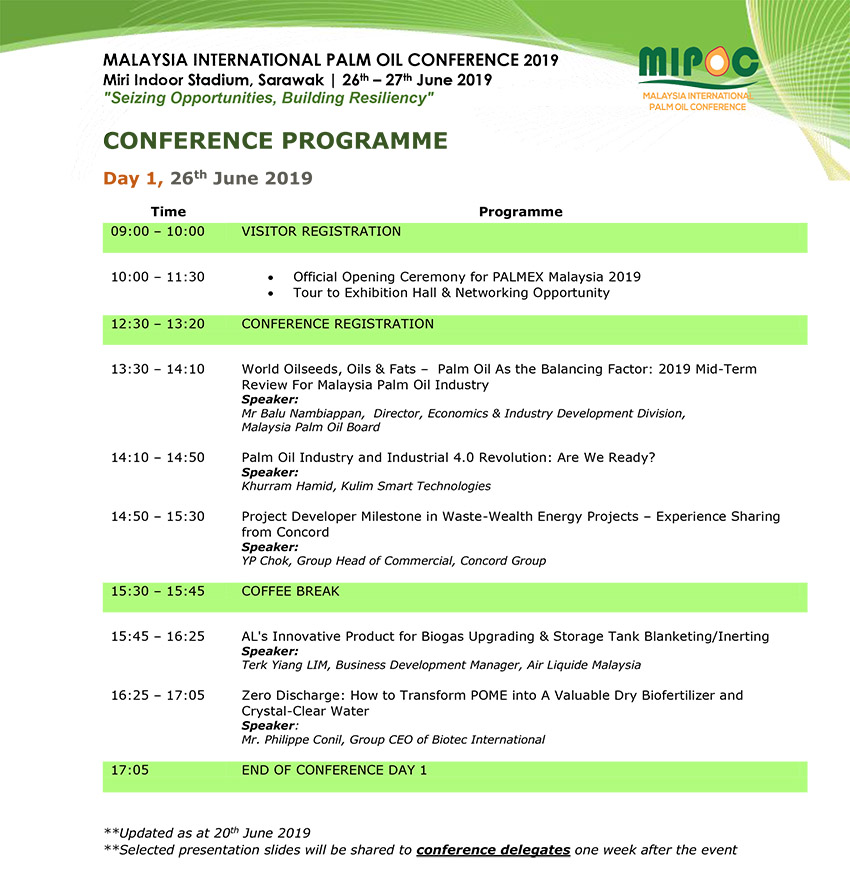 MIPOC 2019 Speakers
MR BALU NAMBIAPPAN
DIRECTOR, ECONOMICS & INDUSTRY DEVELOPMENT DIVISION, MALAYSIA PALM OIL BOARD (MPOB)

Mr Balu has over 34 years of experience in the palm oil industry – in the area of Market Intelligence/Research, Market Promotion & Market Development; Designing and Executing Counter-Trade / Offset Deals and Palm Oil Credit Payments Arrangement (POCPA). He was also the former Newspaper Editor for the New Straits Times (in charge of Beriteks). He has been a presenter of numerous seminar papers at both local & international conferences.
MOHD RAMDHAN MOHD KHALID
FARM MECHANISATION UNIT , BIOLOGICAL RESEARCH DIVISION, MALAYSIA PALM OIL BOARD (MPOB)

Mr Mohd Ramdhan is currently the Group Leader of FFB Evacuation & Loose Fruits Collecting Technology Group at Farm Mechanisation Unit, Biology Division, MPOB. He has been with the Malaysia Palm Oil Board (MPOB) for 13 years and has published numerous of publications and presented at various conferences. His areas of interest include farm machinery for oil palm plantation, ergonomic and vehicle & engine testing.
TERANCE CHAN
GENERAL MANAGER, EM ECOLOGY SDN BHD

Mr. Terance Chan is a professional management leader with exposure in wide ranging areas of Corporate Planning, Strategy Formulation, Sales, Business Development, Financial Planning, Human Resources Management and leading cross border operations in Southeast Asia and Australasia regions. He is currently the General Manager of EM Ecology Sdn Bhd, a Malaysian-based Biotechnology company that assist a myriad of businesses to convert all forms of organic waste, including EFBs, Sludge and POME to odourless and pathogen free organicfertilizers in 24 hours.
MR. JUDE LOW HONG GIAP
REGIONAL SALES DIRECTOR

A drone passionate, Jude leads Poladrone on strategic partnership and sales activities, focusing on establishing a drone ecosystem of cross-industry alliances while expanding Poladrone presence into regional countries. Jude has successfully organized a few DJI's drone launching event and a series of drone workshops with different topics, which including construction.
PROF. DATIN DR. SITI NOR AKMAR ABDULLAH
DIRECTOR, INSTITUTE OF PLANTATION STUDIES UNIVERSITI PUTRA MALAYSIA

Siti Nor Akmar Abdullah is currently the Director of the Institute of Plantation Studies and a Professor in Plant Molecular Biology at the Faculty of Agriculture, Universiti Putra Malaysia (UPM). Her current research focuses on functional genomics as well as genetic manipulation and biomarker technology for yield and oil quality improvement, enhancing nutrient uptake and disease tolerance in oil palm. She has led several research projects at the national level and secured research grants from oil palm industry members. She has more than eighty papers in citation-indexed journals and 5 granted patents on oil palm genetic manipulation tools and molecular disease diagnosis. Twenty-five PhD students have graduated under her as the main or co-supervisor. She has delivered several talks as an invited speaker in various countries like Australia, China, India and Indonesia and also served as a reviewer for many international peer-reviewed journals. She has led national and international conferences and workshops on plant biotechnology and molecular biology in collaboration with Wageningen University, University of Reading and the University of Nottingham. She has established an internationally certified core research facility for functional genomics and genetic engineering in UPM.
PHILIPPE CONIL
GROUP CEO, BIOTEC INTERNATIONAL

Philippe Conil graduated from University of Brussels in 1981, with a degree in Bioengineering. He has spent his life time in research and development (R&D) in the field of biogas, biofertilizer and sustainability for the industries. He founded Biotec in year 1984 with the aim of developing appropriate conceptual, technological and methodological tools for tropical regions. Biotec has a host of different international teams (e.g. the Malaysia team, Indonesia team, foreign team etc.) with professional knowledge.
Terk Yiang Lim
Business Development Manager, Air Liquide Advanced Technology

Terkyiang is a Business Development Manager at Air Liquide focusing on biogas purification project opportunity in the region and industrial gas applications in Malaysia. He started his career as R&D Engineer. Prior joining Air Liquide, he was working with an Air Liquide joint-venture company in Malaysia for 8 years in Engineering, Logistics and Product Management. He has a Bachelor of Engineering (Hons) in Mechanical Engineering and a postgraduate degree in Systems Engineering and Management.
Price Category
| | | |
| --- | --- | --- |
| | MYR | SGD |
| Normal Rate | RM 250 / pax | SGD 84 / pax |
| Non-Malaysian and Walk-in Rate | RM 500 / pax | SGD 167 / pax |
As our online transaction portal is linked to a Singapore based bank please note that if you wish to perform payment online using credit card, the transaction currency would be in SGD. Please refer to the SGD price in the table above
Walk-in rate will apply starting 21st June 6:00PM (Malaysia Time) onwards
---